Free Download
*Please read carefully below before downloading.
Free trial period is within 30 days from the day of installation.
Once you purchase a license key, there will be no limited period of use.
Please make sure system requirements, important notice and how to install.

System Requirements
| | |
| --- | --- |
| OS | Windows® 8,Windows® 7,Windows® Vista*,Windows® XP*, Windows® 2000* |
| CPU | Pentium® III or equivalent processor |
| RAM | 512MB or higher |
| HDD | 100MB of available free drive space |
| Mouse | Wheel Mouse |
| Monitor | 1024x768 color monitor resolution or higher |
*64bit is not supported.
Important Notice
*We do not guarantee operation for all computers even if they meet the above System Requirements.

*To use Software requires Adobe® Flash Player and Softdenchi runtime program. (Both programs will be installed automatically)

Adobe Flash Player is registered trademark of Adobe Systems Incorporated in the United States and/or other countries.
Softdenchi is registered trademark of Paltiosoft Inc.
How to Install
1. After downloading, double-click the CtMriSetup.exe file.
2. If you do not customize settings, click next and follow the instructions on the screen to complete the installation.
3. Once installation is complete, an icon (alias) will appear on the desktop. Double-click the icon and the following screen will appear.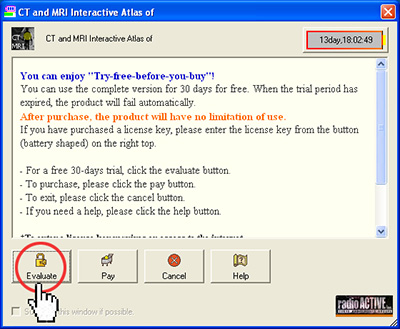 4. Click the "Evaluate" button, then Software starts. Free trial period is within 30 days of installation.
5. Once install is complete, there is no need of the CtMriSetup.exe file, it can be deleted.